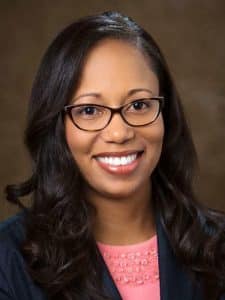 Keisha R. Callins, MD, MPH
Enlightenment
Polycystic ovarian syndrome (PCOS) is one of the most common conditions that can affect the hormone balance in women.   It is usually diagnosed by a comprehensive assessment of symptoms, physical exam, blood tests, and an ultrasound to look at the ovaries (one of the main female organs). The ovaries may have many small cysts, which are not harmful, but may be associated with an overproduction of some hormones.  This may also affect how other processes work in the body.  It is very important to understand how PCOS affects you, so that you can make to changes needed to reduce the impact on your quality of life. Lifestyle choices with proper diet and exercise are going to be a very important addition to any treatment plan that you select.
Education
PCOS may cause changes in your: 1) menstrual cycle (no cycle, few cycles, irregular cycles, or heavy cycles); 2) skin (acne or changes in skin color); 3) hair growth (extra facial hair, thicker body hair, or thinning hair at the scalp); 3) weight (weight gain and difficulty losing weight); 4) how your body controls blood sugar levels; 5) fertility (ability to become pregnant and maintain a healthy pregnancy); and 6) risk for other medical conditions (diabetes, heart disease, elevated blood pressure, elevated cholesterol, stroke, and abnormal changes in the inner lining of the uterus).
Empowerment
PCOS management should be discussed with your healthcare provider to decide on the best treatment plan based your age, symptoms, and the changing goals at different times throughout your life.  Your healthcare provider may suggest different plans based on your priority concerns for irregular menstrual cycles or weight management or desired fertility.  Firstly, a healthy diet and regular exercise should be encouraged to maintain an ideal weight. Secondly, eliminating smoking can help your body to balance hormones.  Thirdly, please talk with your provider about options for medication therapy available such as birth control pills (regulate menstrual cycle and pregnancy prevention); Metformin (improve body's response to it's own insulin); Clomid or Femara (enhance fertility) or referral to a fertility specialist; Aldactone, Vaniqa or laser removal (manage excessive hair growth).
Encouragement
Once a diagnosis of PCOS is made, you can begin to appreciate how the unbalanced hormone levels in your body can cause your symptoms and affect your future health.  PCOS is a medical condition that can be managed with appropriate changes in lifestyle, and medications when necessary. There are some instances where it may be more challenging to get pregnant due to irregular cycles but it is not impossible. There are many myths about PCOS. It is not a disease, it is however, a syndrome that helps you understand how hormones can affect your body, and helps guide your healthcare provider to help your body work better.
Quote Of The Month:
"Never make someone a priority when all you are to them is an option."
~ Maya Angelou ~