November is Diabetes Awareness Month so our Health Educator Camesha Grant put together a week's worth of fun dinner recipes.
We know how hard it can be to find delicious, affordable and easy recipes. For those living with chronic illnesses it may feel like you eat the same kinds of food week in and week out. We get it! Luckily, your healthcare heroes are here to "spice" up your kitchen and your dinner routine.
Our society is so "on the go" that it is hard to even think about dinner, much less prepare it. However, with a little bit of planning and preparation you will have a dinner that you WANT to think about—and dream about, and tell all your friends about…..
Be sure to "like" and "follow" us for more news and fun health information on Facebook and LinkedIn.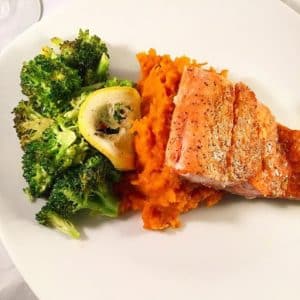 Baked Salmon with Lemon Broccoli and Baked Sweet Potato
1 tablespoon olive oil
2 tsp or more of garlic powder
½ tsp salt
1 tsp or more of black pepper
4 cups broccoli florets. Frozen is fine
Juice and zest from 1 lemon
2 medium sweet potatoes
1 ¼ lbs salmon fillet cut unto 4 even pieces
Preheat oven to 425. Line a large rimmed baking sheet with foil and spray with cooking spray.
Rub sweet potatoes all over with 2 tsp of grapeseed oil or vegetable oil of your choice and place on the baking sheet into the oven. Bake for 45 min – 1 hour.
While potatoes bake, toss broccoli with a drizzle of oil, pinch of salt and black pepper to your liking and brush salmon with oil and season with ¼ teaspoon of salt, garlic powder and black pepper to your liking. Set aside.
When sweet potatoes have about 15 minutes left to cook and easily give with a quick squeeze, add the Salmon and broccoli. Bake until salmon flakes easily with a fork and the broccoli has slightly browned edges and can be pierced with a fork (about 15 -20 min) (Frozen broccoli can also be used and steamed in the microwave.
Remove from the oven when done and squeeze lemon juice over the salmon and sprinkle lemon zest over broccoli and toss. Enjoy!
Turkey Tacos (Serving Size: 2 Tacos)
93% lean ground turkey
1 medium onion
1 packet low sodium taco seasoning
Salsa
1 avocado
Low fat cheese shreds
Hard or soft shell CORN tortillas
Light sour cream
1 tsp minced garlic
Shredded lettuce
Olive oil/grapeseed oil or other vegetable oil
Chop and sauté onion in a pan with a drizzle of oil until soft and translucent. Add garlic, ground turkey and taco seasoning pack and cook, breaking up any large clumps.
When meat gets done, turn down the heat, stir in a couple tbsp. of water and let simmer for a few minutes. While meat mixture simmers, warm up taco shells in either the oven, toaster oven or air fryer.
Cut and slice avocado and sprinkle with garlic powder and pepper. Divide meat mixture among taco shells and top with ¼ cup of shredded cheese, salsa, avocado slices, shredded lettuce and a dollop of sour cream. Enjoy!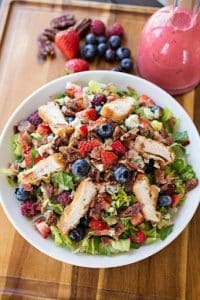 Mixed Berry Chicken and Pecan Salad (Serves 2)
2 chicken breast, grilled and thinly sliced
6 cups Spring mix or your favorite salad mix
1/2 cup blackberries
1/2 cup blueberries
1/2 cup strawberries, sliced
1/2 cup pecans
1 tbl blue cheese crumbles
1small red onion
2tsp Cajun or blackened seasoning
4 tbls Balsamic vinaigrette dressing
Season chicken beast fillet all over with Cajun or blackened seasoning. Add a large drizzle of vegetable oil to a pan on medium heat. Place chicken breasts in pan and cook until edges are opaque, about 10 minutes. Flip to the other side, then cover the pan, lower the heat and cook for another 10 minutes. Once chicken is done, remove from pan and let rest for about 5 minutes before slicing.
While chicken is cooking, wash all produce and pat dry with paper towels. Slice onion to desired thickness. Add salad greens, berries, nuts and onions to a large bowl and toss thoroughly.
Add salad to plate, top with chicken, sprinkle with cheese and drizzle with dressing. Enjoy!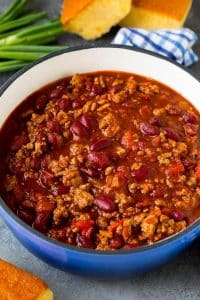 Mixed Bean Turkey Chili
1 lb ground 93% ground Turkey
1 medium onion
1 package low sodium chili seasoning
1 can "no salt added: Rotel diced tomatoes and chilies
1-15 oz. can of "no salt added" tomato sauce
1-15 oz. can of red kidney beans
1 can of Black beans
Low fat cheese shreds
Light Sour Cream
In a large pot, add a large drizzle of oil on medium/high heat. While oil heats, peel and dice onion in small/medium pieces and add to the pot. Sauté onions until they start to soften then add ground turkey and cook. Use a spatula to break up meat during cooking.
When meat is thoroughly cooked, add the tomato sauce and diced tomatoes with chilies and mix well. Stir in the chili seasoning. Next add in the kidney beans (DO NOT DRAIN Kidney Beans). Next drain and rinse black beans and add them as well. Stir everything together well and let simmer for
30 min – 1 hour.
Add one cup of chili to a bowl and sprinkle with cheese and add a dollop of sour cream and enjoy!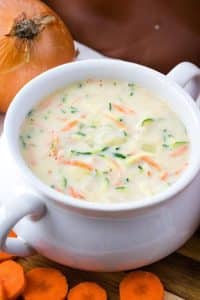 Creamy Zucchini Carrot Soup (Makes 4 Servings)
1 medium onion, finely chopped
1 tsp minced garlic
3 tablespoons plant butter
3 tablespoons whole wheat flour
1 cup low sodium vegetable broth
2 cups 1% milk/or milk alternative of your choice.
2 medium zucchini, grated
1 medium carrot, grated
Salt and pepper, to taste
Low fat cheese shreds (optional)32
Melt butter over medium heat in a large pot. Add onions and garlic and sauté until onions soften and are translucent.
Stir in flour until combined and then add milk, vegetable broth, salt and pepper and bring to a boil.
Reduce heat when mixture starts to boil and add carrots and zucchini. Cook for about 3-5 minutes until vegetables become tender. May sure to stir frequent to prevent scorching.
Sprinkle the top with cheese and enjoy!