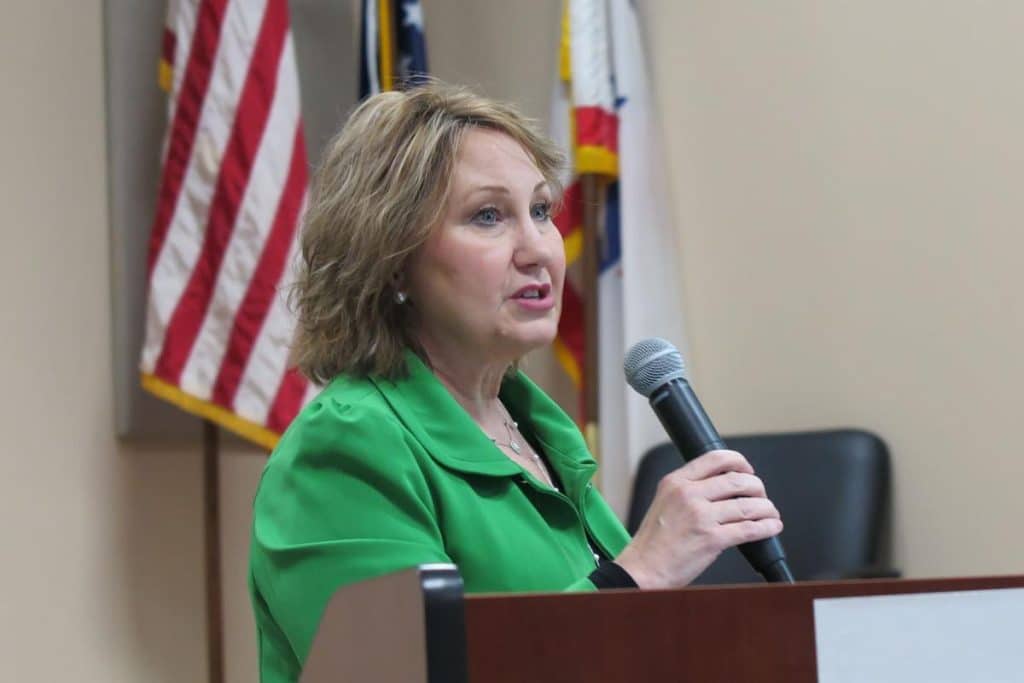 Communities in Schools of Milledgeville-Baldwin County (CISMBC) announced in November that a $2.5 million U.S. Department of Education grant will be used to further its mission of increasing student success in the local public schools.
In addition to bolstering CISMBC's efforts to promote literacy and parental involvement in their schoolchildren's lives, the grant, to be paid out at $500,000 a year over the next five years, also calls for the creation of a school-based health clinic accessible to students, school district faculty and staff, and even to parents.
The Baldwin County Board of Education heard a presentation Tuesday from Kay Lawrence of Community Health Care Systems (CHCS), the company that has been contracted to operate the school-based health clinic inside the school district's Early Learning Center.
"We serve as a federally-qualified health care center, which basically, for your information, means that we are a safety net organization," said Lawrence, CHCS director of marketing and outreach. "While we serve a lot of insured folks — a lot of people with Medicare and a lot of people with Medicaid — we also serve the uninsured. The opportunity to come into another school is a huge opportunity for us and truly my favorite opportunity because we feel so strongly about impacting the communities at-large. We know that we can do that most effectively through these children and their health and overall attendance in school."
The new local clinic is scheduled to have a "soft opening" late in the spring and throughout the summer before opening fully next fall at the start of school, according to Lawrence.
CHCS operates 17 health clinics across central Georgia, including two other school-based clinics, one of which is located in Johnson County. The CHCS director of marketing touted the company's stability, stating that in its more than 20 years of existence it has only had two CEOs and two CMOs (chief medical officer). Once open, the clinic inside the Early Learning Center will operate during school hours, and the grant funding also allows for a liaison that could take students to the clinic during the school day with parental permission.
"We are committed to tomorrow's health care today," said Lawrence. "That's what makes the school-based clinic so important to us. It's not just about taking care of people our age or adult age, but about preparing children to learn how to take care of themselves from the inception of them being preschoolers on up to high school age and beyond."
Baldwin County School Superintendent Dr. Noris Price reminded board members and those in attendance that the Early Learning Center was built with a clinic space already in place, so all that's left to do is buy supplies.
"The grant would allow us to buy the equipment and upgrade it," Price said. "Community Health Care Systems will provide the staffing for the clinic. It's another way of removing barriers so students are not missing school because they're not able to go to the doctor or they're not able to get medication. … We're very excited about this partnership and removing barriers. We want to be sure that kids are healthy so they can learn and be successful in life, which is what it's all about."
Hill Elected New Board Chair
Also during Tuesday's monthly meeting, board members elected new officers for 2019. District 3 representative Lyn Chandler nominated his District 2 counterpart Shannon Hill to serve as board chair. Outgoing chair Dr. Gloria Wicker seconded the nomination, which brought a vote, and all board members agreed unanimously to make Hill the new chair.
Hill, who served as the vice chair for 2018 until moving up the ladder, is in the midst of her first term on the Baldwin County Board of Education, and this will be her first time serving as chair.
Hill took charge over Tuesday's meeting as the board filled out the remaining officer position before setting the times, dates, and location for this year's meetings. Chandler was elected new vice chair for 2019, and it was decided that board meetings will continue being held on the second Tuesday of each month, except in July and October, when they will take place on the third Tuesday.
Board liaison positions were also filled as John Jackson, District 4, was named Georgia School Boards Association (GSBA) legislative liaison, West Cummings, District 5, was named GSBA legislative liaison alternate, Dr. Wicker was named Head Start liaison, and Jackson was named Baldwin Charter System Foundation of Excellence trustee.
In other business Tuesday, the board also:
Approved increasing the hourly pay rate for part-time school nutrition workers to $8 and $9 for full-timers. School nutrition managers also received a 50-cent pay raise.
Approved the termination of lawn care services agreement with GEO Corrections effective Jan. 31, 2019, and the transferring of lawn care services in-house.
Recognized employees for years of service.
Recognized the Baldwin High School band for receiving superior ratings at the Sound of Silver Marching Competition in Blackshear, Ga.
Recognized Oak Hill Middle School girls and boys basketball teams for winning their regional championships.
Heard school improvement plan presentations from principals of Midway Hills Academy and Lakeview Academy.
Read the full article here.